There is growing demand by major retailers for a measurable return on their investment in security, says Stuart Lodge, CEO of security consultants Lodge Service, founded in 1919 by his grandfather.
Retail Security 2013: Return on Investment
How much is crime costing your organisation in lost revenue and additional overheads? What is your annual investment in security to counter potential losses; and what is the return on the outlay?
These are questions that retailers are now asking themselves as they scrutinise crime prevention and other budgets at the start of another year of austerity.
These are questions that retailers are now asking themselves as they scrutinise crime prevention and other budgets at the start of another year of austerity.
Heads of security in the retail sector have to account increasingly for the ROI, Return on Investment, from the systems and services required to protect assets and revenue. It is becoming a central concern too for managers of offices and other commercial properties. The focus has shifted from safety as the primary issue for security planning to one of cost reduction. Welfare and protection still matter, of course, because of the impact on CSR, Corporate and Social Responsibility, and the reputation of retailers in providing a safe customer and working environment.
However, it is the 'bottom line' that is defining security strategy and determines the investment in countermeasures. Retailers are employing a wide range of technologies and services to analyse risk and then optimise the return on their outlay, such as through the protection of specific 'hot goods' that attract thieves, including tea, coffee and electrical goods.
A Blend of Security Systems & Staff
The shift in priorities has required a new 'holistic' approach to security. This combines systems and trained personnel to address shrinkage and the impact of crime throughout the supply chain. Getting the balance right through a proportionate use of available measures and resources can make a measurable difference to ROI (Figure 1).
The strategy requires evaluation of the risk profile and cost of protection at each progressive stage: from transportation and warehousing of goods; their movement and display in-store; through to selection by the customer and presentation for payment.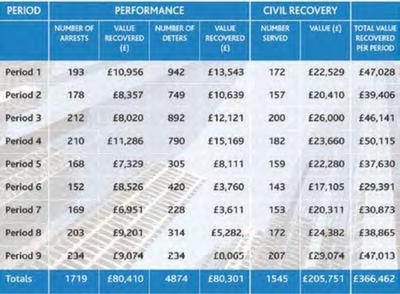 Two key principles underpin an effective strategy: firstly to get the proper processes in place; and secondly to ensure that they are followed consistently.
This demands effective surveillance and monitoring by combining CCTV and manned guarding, supported by investigations and undercover inspection teams. Activities can range from web research to identify the threat of 'flash mobs', through to assessment of points of vulnerability, such as at the point-of-sale, to detect any connivance of dishonest staff with accomplices for example.
Managers of multiple sites are increasingly using web-enabled services for CCTV and secure access to premises outside working house, managed and monitored from a central hub conforming toBS 5979 (Cat II). The outsourcing and centralisation of monitoring, data analysis, as well as security response and control can cut costs significantly whilst upgrading protection levels and the quality of information needed to optimise ROI.
Intelligence Network
Wilkinson Hardware Stores Ltd, with £1.5 billion retail sales annually, recently commissioned the first stage in a remote monitoring and intelligence network operated by Lodge Service. The programme will reduce the cost of store security by an estimated 50 per cent, and increase return on investment in deterrence, detection and civil recovery by up to 40 per cent.
Remote technology to monitor and manage premises, staff and vehicle fleets is supported in the network, together with security guarding, investigations, screening and other personnel services.
Mick Phipps, head of loss prevention at Wilkinson, says:-
" The network has been designed to provide much more than traditional CCTV monitoring. The software platform allows us to connect all areas of our business nationally in a comprehensive loss prevention strategy. From distribution centre to the retail selling space, we are able to use technology to deliver a clear return on investment, whilst ensuring the safety of our staff and customers and the protection of assets."
For lone-worker, driver-controlled deliveries out of hours, Lodge Service's Accrington hub can track each delivery vehicle throughout the journey from the warehouse. The arrival at the store is monitored on live CCTV; internal alarms in access areas and loading bays are switched off remotely and spaces illuminated, whilst a 'man down' device offers additional worker protection during unloading. The process is reversed and the area locked down securely when the delivery is completed.
" The new infrastructure can provide warning and aversion of threats through the provision of real time data to managers gathered centrally. So overnight or each morning we can deploy security staff and deal with any issues for that day. The database of shared information enables a fast, targeted and proportionate response to ensure the protection of people and product," asserts Mick Phipps.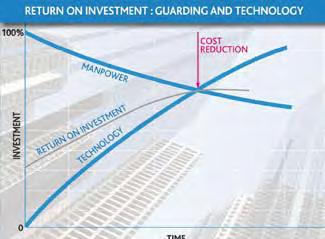 Optimising ROI
In the retail sector there are essentially three parameters that Lodge Service uses to measure ROI (Figure 2): detection, deterrence and civil recovery. Detection can be quantified in the number of arrests and value of goods recovered during a given period; whilst deterrence is measured in incidents where theft is deterred, and the value of the products retrieved. Civil recovery cases focus on subsequent court claims by the retailer for loss and damages.
So how do you specify the services required to optimise return on investment? It is the combination of people and technology, employed according to their respective costs and capabilities that determines the ROI.
Detailed experience of the full range of security measures is essential, to know the available options, their costs and potential returns: whether it is CCTV and remote monitoring; security services and guarding; investigations and staff screening, for example.
The list of options now includes biometric technology, particularly automatic facial recognition in any retail or other protected space open to the public . Systems such as Face Alert offer accuracy rates of up to 98 per cent. A fast, automated facility to identify known shoplifters or terrorists is indispensable when there is a potential threat. Scanning up to 25,000 faces per second, such installations offer a level of accuracy that is impossible to replicate even with trained 'spotters', such as the personnel used by the British Police.
ROI Strategy Checklist
Understand the specific risks: a professional assessment of the risk profile for the key stages of your business processes is the starting point. Consider historic information on incidents as well as potential targets and threats.
Match your security process to the risks: protect the points of vulnerability appropriately and proportionately. Consider a combination of security systems and trained personnel: such as CCTV and guards during working hours and then remote monitoring at night.
Audit compliance regularly: check that staff are cooperating, acting efficiently and honestly. Measures to support your processes can range from the use of employment background checks, to test purchasing, physical surveillance and investigations when lapses are detected.
Set Key Performance Indicators: KPIs for all aspects of your security operation. Consider the variety of ways in which you can measure the cost and return from your systems and services. Methods of measurement can be further evolved with experience and feedback.
Outsource services to a third party monitoring centre: where multiple sites are protected, it can be cost-effective and offer higher levels of protection to link CCTV, security and fire alarms and other web-enabled services to a hub, staffed by trained staff 24-7.
Add value wherever possible: could your guards at night be switching off lights or PCs, perhaps clearing the overflow of office waste paper at photocopiers? Remote 24-7 monitoring could also help you to control heating or other environmental systems and costs.
Regular management reporting: monthly or quarterly reports on security ROI and other KPIs are essential for building support at board level, and as the basis for effective decision-making, including strategy planning and day-to-day deployment.
For further information please visit www.lodgeservice.com