Powered by Barco
How Barco offers open, modular solutions to retrieve and distribute data, from the most diverse sources, and visualize it flexibly and brightly. To ensure prompt and effective responses to security breaches, incidents or emergencies.
From Barcelona's El Prat Airport, the Warsaw Municipal Guard and the Holy City of Mecca through to the new Formula One race tracks in Abu Dhabi, Korea, Delhi and Bahrain: Barco's visualization solutions enhance the speed and quality of decision-making in all kinds of security and surveillance environments around the globe, 24/7. What is it that makes so many organizations and authorities put their trust in Barco?
The importance of real-time information
Prompt decision-making can make the difference between life and death, in the case of security breaches, incidents or, in the worst case, disasters. One of the keys to reduce response times is real-time information: if everyone involved has the same, real-time view of the situation and can share information such as images, logbooks, maps, camera feeds, and the like, they're bound to cooperate in the most effective - and fastest - way. Data gathering, distribution and monitoring is, therefore, of extreme importance in control rooms, crisis coordination centers and emergency operation centers. For more than 20 years now, Barco has been a trusted supplier of video walls and displays to clearly visualize real-time information. Its networked visualization solution, with intelligent controllers and wall management software at the core, ensures the flexible retrieval and distribution of that information.
Networked visualization
Using secure IP technology, the networked visualization platform offers the simplest and most flexible way of sharing and distributing information coming from numerous video and data sources; not only within the control center but anywhere decisions are made. Any type of data can be ingested into the platform and shared to its users by simply attaching the input device to an encoder from Barco's TransForm N family of products, and connecting it to the organization's IP network. On the output side, a TransForm N decoder or controller processes the information for display on any type of visualization device - from laptop screens to large-area displays.
Bright, collaborative overview displays
Large video walls are the best way to display the myriad of information coming from different sources while maintaining team focus in the complex environments that control rooms are. Barco provides a wide range of high-resolution LED rear-projection and tiled LCD video walls that permit virtually unlimited integration of data and video sources into one Common Operating Picture (COP) overview. In order to display immersive, large-screen 3D content, Barco also offers stereoscopic video walls (using active shutter glasses). Optional touch technology, available on all Barco video walls, is ideal for fully interactive planning.
LED-lit panoramic canvas
One of the latest product launches for control rooms, planning environments and crisis management rooms is the OverView Seamless Video Wall (OSV) range of LED-lit curved displays. This series combines the proven qualities of rear-projection cubes (24/7 reliability, high uniformity, and short throwing distances) with Barco's advanced image processing to create a panoramic seamless canvas on which to visualize an abundance of data in the most optimal way. Thanks to the innovative screen technology combined with high precision optics, the depth of the system is 1.1m, which includes space needed for maintenance. The OSV solutions also introduce TransForm C, Barco's new content management approach and GUI. TransForm C allows users to select and deselect previewed sources and combine them in auto-generated layout regions. In this way, it always provides the ideal collaboration composition on the canvas and ensures optimal usage of the display surface.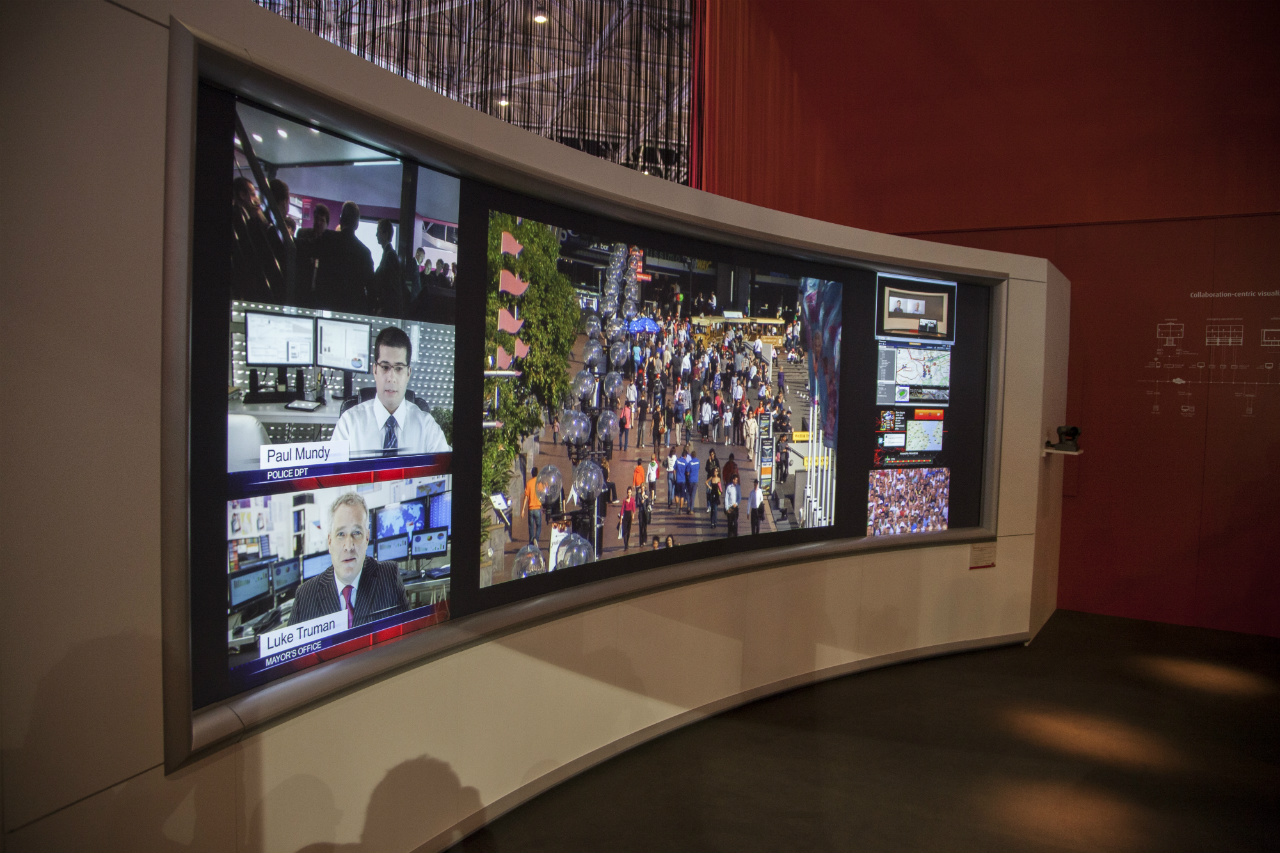 Creating customized, actionable perspectives
Whatever type of video wall chosen, Barco's Control Room Management Suite (CMS) helps operators efficiently manage the wall. CMS allows users to correlate data from many different sources into an actionable perspective - a personalized and dynamic view appropriate to each individual's specific roles and tasks. Thanks to its open API, the CMS can be perfectly combined with high-level situational awareness applications, such as the PSIM or VMS systems to recognize, correlate, analyze and resolve events. This total integration facilitates event-based visualization, manual or automatic loading of perspectives or scenario-building on CMS-powered displays.
Expandable without limits
The system modularity and openness is one of the distinct capabilities of the Barco product offering. As a subsystem provider, Barco always designs open and universal products that can easily interact with other equipment. In this way, new, 3D geospatial views, for example, can be added to elements already known from traditional scenarios. All it takes is to connect the input device to the corresponding TransForm N input node. The possibilities are literally infinite, with thousands of possible inputs being supported. The result: increased system flexibility and better decision-making.
Better and faster
"In mission-critical situations, it's a must for security personnel to have the most complete information available and be able to show and share that with others. Barco solutions ensure a much higher level of awareness and visualization of everything that is happening on the ground, to help control room personnel view better, share faster and resolve quicker," commented Dirk Hendrickx, Vice-President Strategic Marketing Industry and Government at Barco.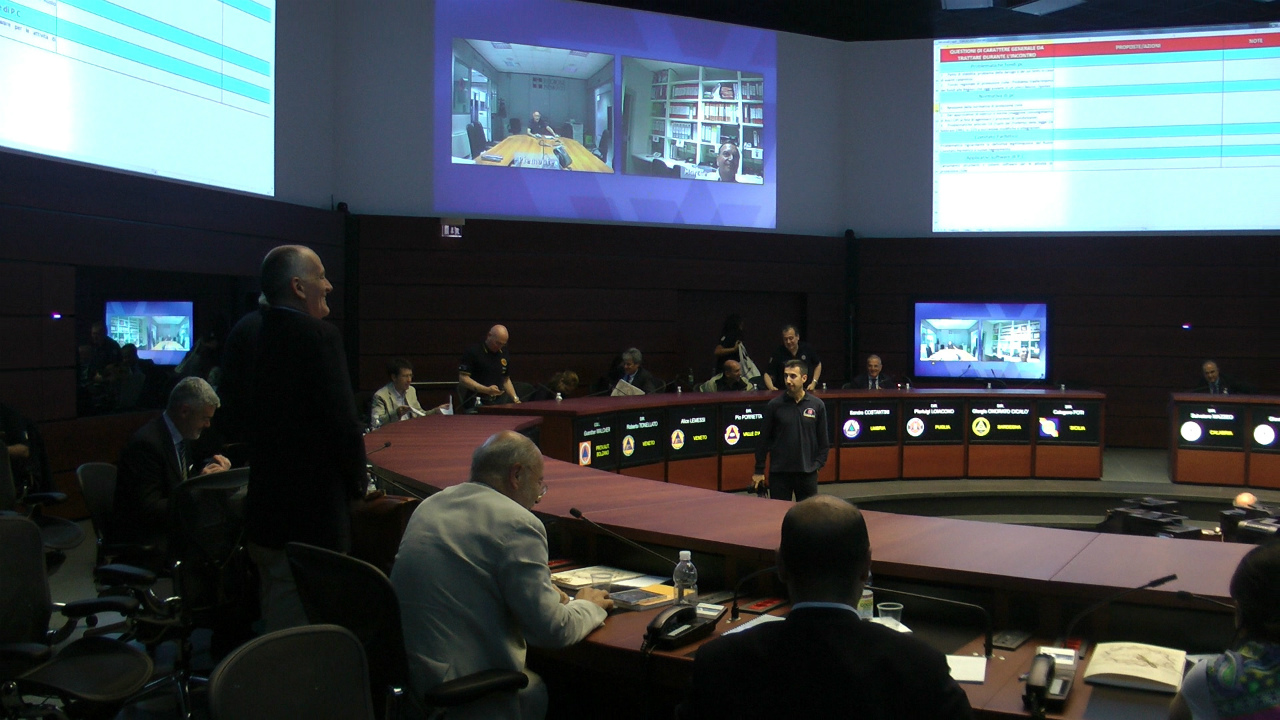 "Barco took our control room into the future"
We've found some great examples of how Barco's display solutions and networked visualization system help raise the efficiency of emergency operations. Here's two:
Swedish fire departments
In Sweden, IT solutions provider Atea integrated Barco's control room management (CMS) software and the TransForm N family of networked controllers into a modular control solution. The package is currently being used by over 20 fire departments, one ambulance service and several police departments and much more projects are in the pipe. Project manager Mats Nilsson of the Hyllie fire station near Malmö: "When an alarm sounds, an automated voice now announces the incident. The operators can then immediately pinpoint the incident and the current positions of fire safety assets and ambulances on the bright, 3X2 Barco NSL video wall. Simply by pressing a few buttons, the data can be shared on the wall so that everyone involved receives a coordinated picture of the situation."
Civil Protection of Friuli Venezia Giulia (Italy) 

Italy's Civil Protection agency relies on Barco equipment in its National Center in Rome, as well as in the 'Cube', a control center established more recently in the Friuli Venezia Giulia region (Northeast). While the Cube's control room features a Barco video wall consisting of 7x2 OL-721 modules, the crisis room is equipped with 16 RLM-W6 projectors reproducing environmental crises simulations on a 360° set-up of eight screens. A video wall made up of 4x2 NSL-5521 tiles adorns a meeting room. The Transform N video wall controller and the CMS software ensure that any type of data source can be accessed and shared from any location within the workplace. By facilitating quick and effective collaboration and decision-making, the installed Barco systems help the Civil Protection succeed in its mission: help keep the Italians safe from natural hazards.