Brenda Taylor of Traka discusses how key and asset management can integrate with other security disciplines to extend beyond 'convergence' and move towards intelligent building management. Brenda shows how assets can be protected with an approach that draws on shared data while making its own contribution to enterprise-wide information. Case studies of this method make compelling return-on-investment (ROI) arguments for updating key-based access control and asset management to electronically-tagged fobs and RFID lockers within a management software system.
A point I make to anybody who is looking beyond traditional metal keys is that keys are of no value in themselves; their worth lies in what they give access to and the protection they afford to processes and assets. Access control in terms of door management progressed beyond the traditional key as soon as role-based discrimination between staff was made possible by the magstripe card and subsequently by proximity cards using RFID. High-level access control measures may now combine evaluation of a card submitted by the user with biometric scanning.
Delayed adoption of this technology to control the issue of keys and discriminate between staff on a need-to-have basis has made key management a poor relation of access control. But companies such as Traka have pioneered fob systems in which use of keys is controlled and recorded with the fob – usually a nickel-plated cylinder – being attached to the keys via a tamper-proof metal seal. A uniquely-identifiable chip within the fob allows facility supervisors to impose hierarchical rights management on use of the key with the sophistication we associate with door control. Management software now allows the pooling of data between different sectors of the security spectrum, collaboration which makes the case for intelligent key management overwhelming.
Fobs serving as keys
Working with Tesco, Traka has further refined its offering (and increased potential for interaction with other security systems) by making the fob the key itself rather than just an attachment and using the fobs to control access to forklift trucks. Only a staff member with a fob confirming that they have an appropriate license and training certificate can even turn the ignition. In this way, a security mechanism permeates through health and safety. Similarly wide-reaching systems are in place at mines in South Africa run by Sasol. Stringent safety practices log a worker's hours in areas where they may be exposed to contaminants, and when fob details indicate that a threshold has been reached the worker is unable to use vehicles and equipment.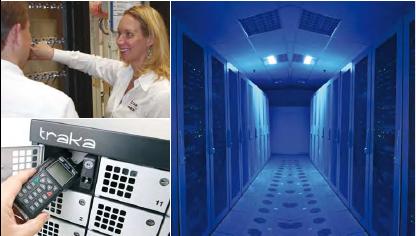 Open architecture
Common standards are also being promoted by access control developers. Through the OpenAccess Alliance Program, Lenel is encouraging open architecture through interfaces to its OnGuard™ platform and Traka has second-level certification. Open protocols are allowing exchange of many types of data. Exchange of information may soon extend to fire or emergency mustering since a staff member identifying themselves to an intelligent key cabinet to access an asset is often a more recent indication of their location than the opening of a door. This kind of functionality is at concept stage only but it underlines how building management systems will only be 'intelligent' once they swap data across the widest range of sources.
Open standards are the new closed source
Interoperability between security sectors is a 'given' now and not a debate. Discerning clients see it as a starting point. Notably, access control is expected to report to CCTV with a standard example being the manner in which break-glass incidents either trigger CCTV recording or send a request for higher resolution. Consultants specifying new-build installations now demand that access control, key systems and issue of assets should all integrate with CCTV, visitor management software and enterprise-wide online incident reporting.
As systems converge, contractors visiting a site on a regular basis can be granted some of the access rights of staff members and may be issued with tools and equipment. This functionality is available within Traka. It should also be noted that good system architecture now draws on the intelligence of field devices at the 'edge'.
Traka supports integration into any open-standard video management system. This is often demonstrated in the casino environment, by customers in the financial sector with pinhole cameras installed in the facia of the key cabinet, and in entry and exit doors at data centres where Traka manages the keys to data racks. Not only is a worker unable to exit a data centre if they are still holding a key, but video integration connects ootage to the attempted exit and to usage of the key cabinet.
Other triggered events might be to sound a bleeper or send an email to a manager. Working with surveillance specialists Visimetrics, Traka is able to use video analytics to ensure that supervisors assessing staff behaviour at key cabinets and asset lockers do not have to watch eventless footage. Disputes between staff as to asset usage can be resolved easily when key cabinets are integrated to CCTV with analytics.
Alarms can be scaled. A low-key alert such as a beacon might advise a staff member of an innocent mistake such as putting a key into a wrong position while an audible alarm would be activated by more unusual behaviour around a cabinet such as somebody opening and closing a door repeatedly with no associated key event. Graduated alarms of this kind are possible in the Traka 32 PC administration software.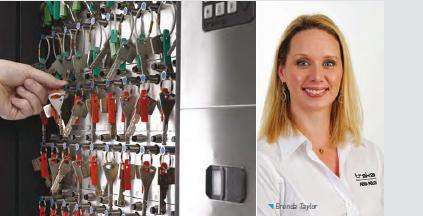 Lenel integration
In leading access control systems, adding or editing an individual's profile and rights allows for automated integration with Traka. This is at the heart of Traka's interaction with Lenel and can be seen in a case study for a multinational electronic commerce company. At these sites, which can extend over one million square feet, a staff member's card within the OnGuard system from Lenel not only allows them through physical security zones in the form of rack or picking areas but, as a result of integration with Traka software, determines what equipment (notably PDAs) can be issued to them. The fob becomes a key in its own right.
At the end of a shift, all data collected by the fob is downloaded into the system and if the PDA or scanner has not been properly returned the employee is unable to exit the facility. This is extended to control access to dock doors and to lorry-truck management so ensuring that lorries are secured to the dock prior to the door being raised. In this way, Traka extends security functionality to compliance, health & safety and regulatory management.
Conclusion
If building subsystems such as access control and asset management are to improve they must continue to integrate and make good judgment calls based on any situation that might arise. In my inbox as I sum up is a claim by the University of Illinois at Chicago that one of the world's best-known artificial intelligence units, ConceptNet4, has the intellect of a four-year-old. On the BMS front, current trends are more encouraging. Truly integrated solutions are bringing together access control, fire detection, biometric screening, photo ID and PA/VA under intelligent platforms with key and asset management proving versatile components in security and situational awareness.
For further information please visit www.traka.com