Welcome to Intersec
The world's leading trade fair for Security, Safety and Fire Protection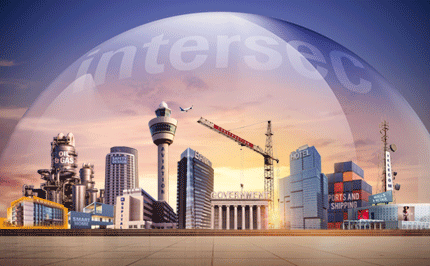 Click on the image to interact and discover products relevant to your specific industry
Once again, the 19th edition of Intersec concluded a successful three days of busy networking featuring 
1,304 exhibitors
 from 58 countries. The show welcomed 33,501* industry professionals coming from all over the world.
A high standard of security & protection products were on display, from a globally unrivalled range of products, major brand manufacturers, international newcomers and many others, catering to all industries. Learn more here.
What's more? visitors experienced cutting-edge innovations and new products at the Outdoor Demo Area, including for the first time, a Drone Zone.
As the largest, most diverse, and most influential security & safety exhibition in the region, Intersec helps you identify precise, cost-effective, leading-edge products and solutions from the world's best brands.
Intersec 2017 Highlights:
• 1,304 Exhibitors (83% International)
• 7 Product Groups
• 4 Specialised Pavilions: Safety Design in Buildings, Job & Career Pavilion,         GPEC Pavilion and Techtextil Pavilion
• 13 Country Pavilions: Canada, China, France, Germany, Hong Kong, India,        Italy, Korea, Pakistan, Singapore, Taiwan, UK, USA
• 17 out of top 20 Security Countries (Source: ASMAG)
• 3 Conferences running alongside the exhibition
• Outdoor Demo Area including our New Drone Zone
We look forward to welcoming you at the show
| | | |
| --- | --- | --- |
| Date: |   | January 21 - 23, 2018  |
| Time: |   | 10:00 am – 6:00 pm (Daily) |
| Venue: |   | Halls 1 - 8, Trade Centre Arena and Sheikh Saeed Halls 1 - 3, |
|   |   | Dubai International Convention and Exhibition Centre |
Event News
Intersec, the world's leading trade fair for security, safety, and fire protection, will open for...
Middle East homeland security revenues to double by 2022 reaching US$19.7 billion.
Record numbers of attendees to the 11th edition of SDW benefited from the impressive 140-stand exhibition, a series...
Bosch Corner
The Internet of Things (IoT) is changing the way we view video security, quite literally.
Nature is incredibly unpredictable. It only takes minutes for a wind to double in strength...
From evacuation to conferencing: Bosch supplies full security and communications solution to Krakow event center.